Coronaepidemin har fått universiteten att ställa om sin undervisning och gå över till distansarbete. Hur hanterar vi situationen i de nordiska journalistskolorna? Vi frågade några kollegor, som sitter i sina hem och styr undervisning under exceptionella omständigheter.
"Tröskeln till det digitala blir lägre nu"
Marko Ala-Fossi, universitetslektor, Tammerfors universitet i Finland: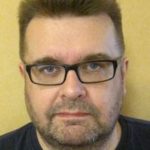 "Med tanke på vilken stor avvikelse från normalläget vi befinner oss i – och hur snabbt vi har varit tvungna att anpassa oss till det – kan man konstatera att allt distansarbete har kommit igång med förvånansvärt små problem.
I första skedet nåddes jag av enstaka tekniska problem som trasiga datorer eller mjukvaror som saknades. De kunde vi ta hand om redan innan campusområdet stängdes ner, och nu fortsätter vi att lösa problem på distans. Vi har insett att vi har förhållandevis bra tekniskt beredskap: vi har redan innan använt lärplattformen Moodle på nästan varje kurs, vi har laptops som jobbdatorer och mobiler med universitetets datauppkoppling. Det har alltså från tidigare funnits potential för distansarbete.
Samtidigt kan man påpeka att det är relativt arbetsamt att omvandla kurser till digital form om de från början haft ett pedagogiskt upplägg som baserar sig i klassrumsundervisning. Om föreläsningar inte finns inspelade så måste de spelas in nu. Övningarna måste man tänka om helt eller åtminstone delvis. Trots det kan många undervisningstillfällen som kräver interaktion förverkligas och spelas in på Zoom. Längre undervisningstillfällen, eller flera korta i rad, kräver dock så intensiv koncentration att det blir mycket mer ansträngande än ett motsvarande tillfälle i klassrummet.
Jag gissar att denna vårtermin blir en sorts brytpunkt och digitalt arbete kommer att tas hänsyn till på ett helt annat sätt i undervisningen framöver. I alla fall blir tröskeln att använda digitala verktyg mycket lägre nu – och användningen kommer att upplevas som meningsfullt."
"Så mange studenter som mulig skal få godkjent sin praksis"
Hege Lamark, førstelektor, Nord universitet, Bodø i Norge: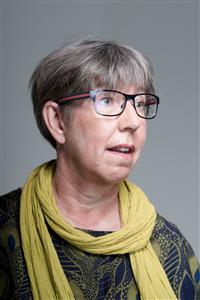 "Her i Bodø har vi en spesiell situasjon i år, ved at vi kun har ett studentkull i gang med sin utdanning. Studentene ble tatt opp høsten 2017, og startet sin redaksjonspraksis 3. februar. Praksisperioden skal etter planen vare til 30. april. Da coronakrisa inntraff, ble norske universiteter stengt, og vi ansatte fikk påbud om hjemmekontor. Nord universitet innførte deretter stans i all praksis som krever fysisk tilstedeværelse, med andre ord skal studenter ikke møte fysisk på praksisstedet i denne perioden. Kun praksis fra hjemmekontor blir akseptert. Denne bestemmelsen er senere forlenget til over påske.
Vi har 20 studenter ute i praksis i 16 ulike redaksjoner – fra Finnmark i nord til Trøndelag i sør. Da krisa inntraff var lærerkollegiet i gang med å besøke praksisredaksjonene, og vi har senere fortsatt med å opprettholde denne kontakten ved hjelp av telefon. Vi har de siste ukene brukt mye tid på å kommunisere nærmest daglig med den enkelte student og veileder. Målet er at så mange studenter som mulig skal få godkjent sin praksis, slik at de kan gjennomføre avsluttende eksamen denne våren.
I de fleste tilfellene ser dette ut til å gå bra; studentene deltar på morgenmøter og andre redaksjonelle møter via Skype. I likhet med de fleste andre journalister arbeider de hjemmefra, kontakter kilder via digitale plattformer og publiserer saker som best de kan. Mange studenter gir uttrykk for at de opplever situasjonen som svært lærerik.
Men – i skrivende stund tårner nye problemer seg opp i horisonten. De første mediehus melder nå om at de må permittere ansatte, fordi annonseinntektene har stupt under krisa. Vi vet ikke om dette vil berøre noen av våre studenter. Samtidig kommer det en rekke positive signaler fra redaksjonene, ikke minst ved at en stor andel av studentene har fått tilbud om sommerjobb. Journalistikken trengs mer enn noen gang!
Ellers arbeider vi lærerne fra hjemmekontor, med nærmest daglige lærermøter på Skype. Vi prøver å videreføre forskningsarbeid, sensurerer eksamener, skriver søknader og gjør det vi ellers hadde planlagt. Det går «så där» i denne merkelige situasjonen, men det har vi jo til felles med alle andre.
Håper våre nordiske kolleger holder seg friske og raske."
"'Jag älskar Zoom!', utbrast en student"
Erik Eliasson, universitetsadjunkt, Göteborgs universitet i Sverige: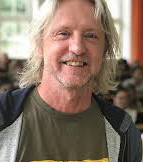 "Här i Göteborg blev det en stor omställning: vi planerade just en stor redaktionell övning för 56 studenter i termin 2 när vi blev hemskickade.
Övningen fick kortas och göras om. Vi har tre grenar – Ljud, Rörlig bild samt Text. Hur det i detalj fungerar med Ljud och Rörlig bild vet jag inte riktigt, men jag kan berätta att med hjälp av Zoom har vi fått gjort något som nog liknar situationen på riktiga tidningsredaktioner just nu. I Zoom samlar jag först studenterna på morgonen. Vi pratar om vad som ska hända och sedan delar jag upp dem i tre 'Breakout rooms' – en inrikes-, en utrikes- samt en Göteborg /nöje/sport-redaktion. Själv sitter jag kvar i mitt mötesrum och vill någon fråga om något så ploppar hen upp på min skärm. Det händer ett par gånger i timmen.
'Det här är så bra! Jag älskar Zoom!' utbrast en student igår och jag är faktiskt böjd att hålla med. Zoom-programmerarna borde få någon sorts pris. Stackars de som är hänvisade till Microsoft Teams.
Vi har skippat pappersredigeringen den här gången. De tre redaktionerna publicerar direkt i vår online-övningstidning Göteborg Nu.
Det går bra, riktigt bra. Och humöret är gott hos studenterna.
I går genomförde vi reportageseminarier i Zoom. Sex studenter i varje seminariegrupp. Tre timmar. Även detta gick över förväntan. Det skiljer sig inte så mycket från fysiska seminarier och jag tror att lärandet blir minst lika bra. Kanske bättre, jag kände en diskussionsvilja som jag inte riktigt kände igen från vanliga seminarier.
Vad gäller föreläsningar så tänker jag köra dem i realtid i Zoom. Inspelade föreläsningar förlorar all den interaktivitet som jag tycker är själva poängen med en föreläsning. Det kommer dock en utmaning i nästa vecka då jag ska föreläsa för 65 studenter. Hoppas mitt mötesrum rymmer så många…
Däremot spelar jag in tutorials. Nyhetsgrafik, Photoshop, InDesign, WordPress och så vidare. Men det har jag alltid gjort, för att kunna hänvisa studenter dit som missat workshoppar. Jag är idag glad för de tutorials jag gjort tidigare."
Maarit Jaakkola
En engelskspråkig version av inlägget har publicerats på NordMedia Network: Greetings from the Home Office – Journalism Teachers and the Corona Crisis.