As a teacher, it feels sometimes difficult to make journalism students try to experiment with alternative ways of storytelling. No matter that you have carefully gone through multiple examples of what is possible online, and motivated students to break down their stories to videos, images, graphics and other visualizations. The result will be a long text, possibly with one or two images. You find yourself asking if there are any better pedagogical choices to nourish fantasy.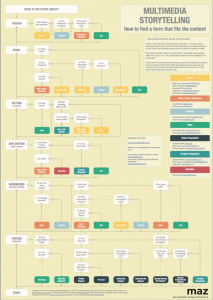 The Swiss School of Journalism – Die Schweizer Journalistenschule MAZ introduced a map for multimedia storytelling at an EJTA Conference in 2015. The map depicts different choices to consider for telling a story with the help of multimedia. The aim is to feed the journalist's imagination by showing possibilities for presenting an idea online. The idea is that by asking questions about the material you may be able to match the content with a suitable form.
I have been using the map on different teaching occasions, and to ensure a more comfortable use in Finland, I recently translated it into Finnish. It is currently available in English, Swedish and German (as well as in Azerbaijani and Dutch). As the tool is a work in progress, the German version is already in its 5th edition. The map can be downloaded as a pdf, and thus, printed, which is still a valid option in the our classrooms, or used as an interactive html version.
The idea to reduce the complex decision-making process to a limited number of questions and answers may appear to many too simplified. Some questions, such as whether the person's appearance is important to telling the story or not, may even seem irrelevant in some contexts. To prevent misunderstandings and overinterpretations it is thus important that the map is introduced in the classroom by the teacher with a short debriefing about the objectives of the approach. At its best, the map functions as a tool that supports the student's creative process, not as an instruction sheet with pre-made decisions that has to be followed by numbers.
With this little example I am inviting colleagues from the Nordic countries to present their best online teaching materials to their colleagues. You don't have to wait for the next NordJour conference to share the greatest classroom discoveries!
Maarit Jaakkola
The author teaches and researches journalism in Finland and Sweden. She is happy to receive suggestions from teachers on texts presenting and discussing teaching materials and pedagogical ideas to be published in this blog at maarit.jaakkola@uta.fi.